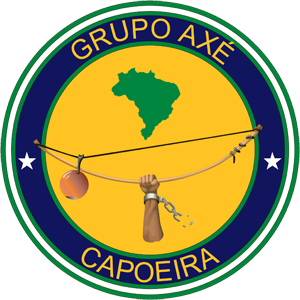 History
Grupo Axé Capoeira was founded by Mestre Barrão in Recife, Brazil in 1982. Today, with academies throughout Canada, United States, Europe, Asia and South America, the Group has emerged as one of the world's leading Capoeira organizations. Backed by worldwide releases of eight albums of music on CD, the video release of the 2000, 2005, and 2009 International Capoeira Encounter, four volume Instructional DVD compilations, and two Performance videos from the Axé Capoeira Volume IV and V DVD releases, enrollment continues to steadily increase.
The Group continues to travel around the world and participate in competitions and has participated in the 2001 International Capoeira Competition in Argentina. Furthermore, Grupo Axé Capoeira is renowned as a traveling group which promotes the history, music, art, and culture of Brazil in interactive and educational demonstrations.
Philosophy and Methodology
The philosophy of Grupo Axé Capoeira is to respect all the mestres, preserve the roots and traditions of Capoeira, and train Capoeira in all its aspects: as a fight, art, and culture. We endeavor to teach and educate so that capoeira will grow in a positive healthy way. We attempt to pass on to the students physical and mental methods of training so that they learn to create situations and maintain a dialogue within the game. By playing both with friends and enemies, students learn to deal with any situation in or out of the roda. In North America, we not only teach movements, but the Brazilian language and customs as well, so that the students may become true capoeiristas.
Objective
Axé Capoeira is working hard to ensure that Capoeira has a strong future and can be placed among the most widely practiced and respected martial art forms in the world. Through historical research, travel and event participation, we hope to increase our knowledge in the art and contribute to the evolution and growth of Capoeira. In addition, we strive to promote a healthy and active lifestyle for our members of all ages.
At Axé Capoeira Maryland, we take pride in providing a positive atmosphere where youth and members of the community have a place to build self-confidence, self-image and improve their lifestyle. Training capoeira can prove to be very beneficial in these aspects:
Strength: Capoeiristas are always moving around on their hands in handstands, rolls, poses, etc. that can make a drastic improvement on upper body strength. They also perform many jumping kicks and movements that definitely improve leg strength.
Endurance: to provide the maximum energy during the entire period of play.
Flexibility: Some capoeiristas are on par with yoga practitioners in terms of their flexibility.
Agility and Speed: capoeira movements change direction at any time, and one has to be quick on one's feet to gain spatial advantage.
Cardio and Stamina: Intense capoeira games can require enormous amounts of energy. This, combined with constant repetition of movements and techniques, makes capoeira a valuable cardio exercise.
Balance and Coordination: to master the body's control during complex movements and to be able to respond to attacks with arms, the trunk of the body and legs, all at once.
Rhythm: the Capoeira game is led by music and singing and the pace of the movements must match the music's rhythm.
Overall Fitness: Capoeira will improve your strength, flexibility, and stamina, thus improving your overall fitness. It may take a while to become fit, but once you start to take capoeira seriously you can become the picture of health.
In addition to the numerous health benefits that capoeira offers, it can also improve your social life:
Meet new people: When you join a capoeira group, you become part of a family. You will meet people from all over the world, and you will definitely make new friends along the way.
Learn a new language: You may not become fluent (though that's always a possibility), but there is no doubt that you will come to understand and perhaps speak a bit of Brazilian Portuguese.
Learn about a new culture: Capoeira is deeply connected to Brazil. In a time when many martial arts are reduced to aerobic workouts and cookie cutter dojos, capoeira maintains all of its roots and traditions. Maybe you'll even develop a taste for Brazilian food!
Gain confidence: If nothing else, capoeira is perfect for instilling a sense of pride and confidence in anyone who plays. Not only will you feel stronger and more courageous once you become comfortable in the jogo, you'll find confidence in knowing that you are unique among your (non-capoeira) peers because you can do things they couldn't imagine doing.