Head Instructor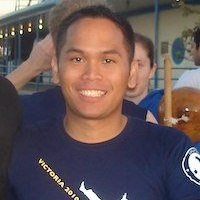 Bayu Wicaksono, known in the Capoeira world as Catatau, was born in Jakarta, Indonesia. He migrated to US in 1998 to attend Purdue University where he became one of the pioneer of the Capoeira club at Purdue in 2001. Realizing that one would need a proper teaching and tutelage under a Capoeira instructor, Catatau met Professor Bambu shortly thereafter and through him became part of Grupo Axé Capoeira. After graduating his Master's degree from Purdue, he moved to Maryland in 2004, while still keeping in contact with his teachers in the Grupo and progressing in the art.
Realizing the rarity of Capoeira in Maryland, Catatau began to teach classes in 2008, and thus Axé Capoeira Maryland was born. He would occasionally travel to his home country, Indonesia, and teach Capoeira workshops in Jakarta, his home town.
He currently holds the advanced corda Marrom-Verde in the Axé Capoeira graduation system and is the head instructor for Axé Capoeira Maryland. Nowadays, Catatau continues to teach, train and travel throughout the North America and the world to continue to improve in all aspects of Capoeira, and constantly learning and searching for knowledge in the art of Capoeira.
Assistant Instructor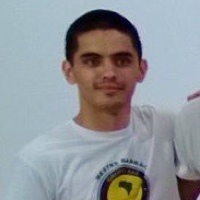 Matthew Jungnitsch is known in the Capoeira world as Macaco Com Fome (or Macaco in short), meaning "Hungry Monkey"; righfully earned through his friendly and playful side as well as his excessive consumption of bananas. Macaco has been learning Capoeira since 2010 under the tutelage of Catatau. In addition to Capoeira, Macaco also holds the rank of black belt instructor in Northern Shaolin Kung Fu under Shifu Sean Marshall where he has been training since 2008.
He currently holds the corda Crua-Azul in the Axé Capoeira graduation system and is assisting Catatau in teaching beginners class for Axé Capoeira Maryland. Outside of his martial arts life, he is an Aerospace Engineer student at the University of Maryland. Macaco hopes to continue to grow in the group and striving to maximize his potential both in Capoeira and in life.